Insights into a profound journey
Becoming a Tantra Masseur has felt like the next giant leap in my path. In a relatively short time I have been graced with so much joy, fulfilment, and deep transformations. Coming up to my first exam, I was asked to write some reflections about the most important things I have learned in this part of my inner and outer journey.
The answers came quite quickly, even though there were so many huge lessons to choose from, and what was apparent to be most important was not what I would have expected when I began learning.
Having a background in practicing Northern Thai Yoga Massage, I already felt quite comfortable with the technical aspects of massage. Although it was incredible to deepen in my understanding of different types of touch and to learn particular reflexology points for unblocking the energy, this was not the most impacting.
And although this process has deepened the expression of my adoration of the feminine, as an artist this is something that I have already been expressing since a small boy.
Active love and transfiguration, when we see beyond the outer appearance and perceive one's soul are two other qualities that have grown in this journey that would be tempting to choose – however I have had the opportunity to learn about and practice these qualities while studying Tantra over the last 4 years.
So then if not the techniques, or the deep adoration of the feminine, the active love or transfiguration, which have all impacted and continued to impact me so much every day, are among the most important qualities I have learned, what are they?
The three most important qualities I have learned training to be a Tantra Masseur for the Tantra Temple are:
Confidence:
I was always (and still can be) very shy. When a boy, I would usually be found alone in nature, absorbed in a book or endlessly sketching the world around me or in my imagination. Although I love good conversation, I am shy to approach and start to speak, and I grew up being fearful of ever making a woman to feel uncomfortable by misrepresenting my intentions.
So at first it was a great challenge for me to give conscious touch from the depths of my heart to an undressed woman who doesn't know me.
What if I am too much? What if I make her uncomfortable? What if I break her trust?
My touch was sometimes hesitant, and I saw how much that this in reality makes a woman extremely uncomfortable.
I realised that all of this anxiety was simply a social programming and that it was destructive.
I realised that if I am sure of my own purity, then I have nothing to fear in how a woman will feel my touch.
And I realised that in reality, as a masseur, it is my duty to be confident, in my purity and in my touch, so that she can relax in my hands and the embrace of my awareness.
My True Eroticism:
I guess for most of us, Tantra and Tantric practices are a revelation. I didn't myself grow up with any positive examples of eroticism, and I always knew something was wrong with what I saw. With no other option available, I stumbled through sexuality trying to find something of myself.
Four years ago I learned for the first time that my intuitions were true, I learned that there was something else, and I learned the theory and techniques to discover it.
The last four years have been a process of unlearning – all of the sexual programs that I was taught by the media and my past lovers who were just as confused as me. I always wished to fulfil my lover, but the idea of fulfilment I had learned was based in always pushing for more intensity, chasing the validation that came from overwhelming my lover, relishing her explosive expression.
It has been a process of uncovering the true eroticism inside me. Who I am really, both erotically and even beyond. Learning that there is far more to fulfilment than the intensity of superficial pleasure. But the speed of the last four years has paled in comparison to the acceleration in this process since entering the Tantra Temple.
I have uncovered depths and nuances that I never could have even imagined:
In my expression: the artistic interplay of subtlety and intensity. And in my appreciation: to simply open the space and adore as the feminine unfolds. And in my experience: the depth that can exist in every moment, in every breath, in every caress.
After every massage, I am blessed to know myself better and better, deeper and deeper, and hope to share this more and more.
Humbleness:
It might appear at first paradoxical that number one was confidence and number three is humbleness, but I have learned in daily experience how they are the two sides of one coin.
Without being settled into confidence, any attempt at humbleness is false. Without being submitted to humbleness, any confidence is equally false. I have needed to step into myself to begin to be truly humble. And I see how being truly humble is my only way forward in both Tantra Massage and life.
To step back from my self conceptions when hearing feedback, so that I can absorb feedback and transform as quickly as possible.
To step away from my wishes to please and "be good" or "the best", so that I can connect empathetically and give what is truly needed in this moment.
To step aside and renounce all attachment to my actions, so that I can make way for the overwhelming flow of universal love, greater than anything I could ever manifest alone.
Realising that even with talent and skill, I will never stop learning, and I will never be able to give more alone than I can give when I submit myself to the highest.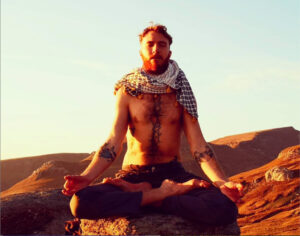 Ryan McElvenny